CCH Capital Allowances 2015-16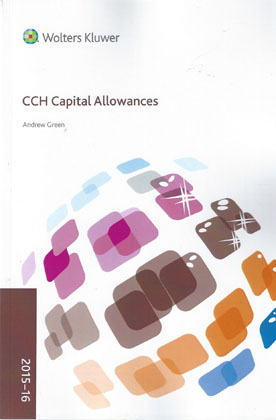 ISBN13: 9781785400643
Published: October 2015
Publisher: CCH Editions
Country of Publication: UK
Format: Paperback
Price: Out of print

CCH Capital Allowances 2015-16 provides the most comprehensive guide to the UK system of capital allowances. It covers all types of capital allowances, including the more specialised ones such as dredging and mineral extraction.
The new edition is written by Andrew Green, Director of European Tax services at FTI Consulting, and includes guidance on all aspects of claiming capital allowances as well as planning points and potential pitfalls, to ensure tax efficiencies in this area. The acclaimed section on plant and machinery allowances is retained this year as well as an uncomplicated structure, making sure you can head straight to the information you need.
Why buy CCH Capital Allowances 2015-16?
CCH Capital Allowances 2015-16 combines in-depth commentary with practical advice, examples and expert analysis. References in the text are made to legislation, HMRC guidance, case law and other relevant material. An A-Z guide sets out the appropriate treatment for specific types of expenditure on plant and machinery.
Benefits of the title are:
Covers all types of capital allowance in a single volume
Section overviews allow you to quickly understand each topic
A-Z guide to expenditure saves time when considering claims
Expert analysis and examples put legislation into context