CCH Accounting Standards 2015-16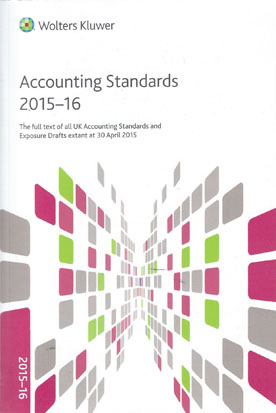 ISBN13: 9781785400902
Published: June 2015
Publisher: CCH Editions
Country of Publication: UK
Format: Paperback
Price: Out of print

Updated for 2015/16 this is the only book containing all of the FRC's Accounting Standards, Statements and UITF Abstracts as of 30th April 2015. (Note that the FRC now issues accounting standards previous issued by the ASB.)
This book will include the new FRSSE 2015, the amended version of FRSSE 2008 which incorporates the micro entity regulations (subject to FRC confirming the final standard). It still has current FRSs and SSAPs, as well as new UK GAAP standards, FRS 100, 101 and 102.
The book contains not only current FRSs and SSAPs but also includes the new UK GAAP standards that have already been issued:-
FRS 100 Application of Financial Reporting Requirements
FRS 101 Reduced Disclosure Framework
FRS 102 The Financial Reporting Standard applicable in the UK and Ireland
Designed for maximum efficiency and presented in a logical format,
Accounting Standards 2015-16
helps you find what you need quickly and easily. The standards are fully cross-referenced with helpful footnotes which identify relevant changes or revisions to documents since they were first issued.
There is increasing scrutiny from regulators and a desire by firms and companies to maintain high professional standards and get work "right first time". Accounting Standards 2015-16 is the ideal reference work to help you achieve this aim, increasing both efficiency and quality. Make sure you have it constantly by your side and on your fellow partners' and staff members' desks.