CCH Implementing GAAS 2015-16: A Practical Guide to Auditing and Reporting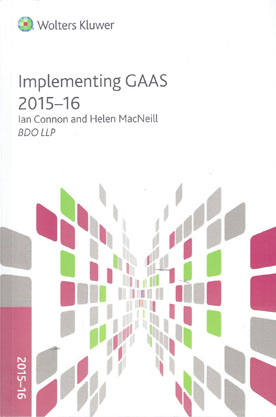 ISBN13: 9781785400964
Published: June 2015
Publisher: CCH Editions
Country of Publication: UK
Format: Paperback
Price: Out of print

Implementing GAAS 2015-16 (Generally Accepted Auditing Standards) provides guidance on all extant UK auditing standards and supporting Practice Notes, Bulletins and other relevant material. The annual title is a practical, up-to-date guide to the ever-expanding and increasingly complex auditing standards and related guidance of which auditors must apply on a daily basis.
The book ensures you have information at your fingertips to help ensure a quality audit. It contains many examples, illustrations of recent reports and coverage of problem areas. As such, it is an ideal reference for practitioners, auditors, students, accountants in business and anyone else involved in auditing and reporting. In over 900 pages it provides a practical, up-to-date and extensive guidance on the application of all documents (including ISAs) issued by the Financial Reporting Council extant at 30 April 2015.
Implementing GAAS explains how the auditing standards, practice notes and bulletins, together with other relevant guidance, are applied in practice. The changes in the documents described for Auditing and Reporting will all therefore be dealt with from a practical perspective in this volume. With so much change, save the time to look each item up individually and work out how to implement it by using this book.
Chapters have been updated throughout with respect to Auditing Standards and other guidance extant at 30 April 2015.