Deloitte GAAP 2016 (Volume D): UK Reporting – IFRS 9 and Related Standards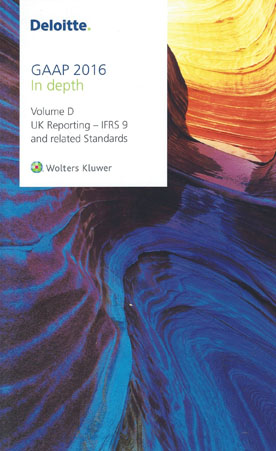 ISBN13: 9781785402289
Published: December 2015
Publisher: CCH Editions
Country of Publication: UK
Format: Paperback
Price: Out of print

GAAP 2016 is the authoritative guide for all UK companies required to prepare financial statements. This manual combines guidance on IFRSs and UK GAAP in a single unified publication.
This volume, GAAP 2016 Financial Instruments IFRS 9 and related Standards is a new addition to the UK series. The Standards covered are IFRS 9; IFRS 7 Financial Instruments: Disclosures; IAS 32 Financial Instruments: Presentation; and IFRS 13 Fair Value Measurement. Requirements are based on the text of Standards at 1 September 2015.
IFRS 9 is effective from 1 January 2018, with earlier application permitted (subject to EU endorsement for UK companies). This volume will be of considerable value to preparers who are planning their move to IFRS 9; it will also be useful to other interested parties trying to gain a better understanding of the impact of IFRS 9.
The text goes beyond and behind the technical requirements, unearthing common problems, and providing views, interpretations, clear explanations and examples. These enable the reader to gain a sound understanding of the Standards covered and an appreciation of the practical issues likely to be encountered in their implementation.
The authors from Deloitte are widely-recognised experts on accounting for financial instruments. This book shares Deloitte's experience gained in working with its clients across the globe. The resulting guidance is the authoritative and practical reference work for preparers and users of financial statements, academics, advisors and, indeed, anybody interested in financial reporting.
This volume is part of a series of GAAP 2016 publications. The companion volumes are:-
Volume A: UK Reporting - Legal and Regulatory Framework
Volume B: UK Reporting - FRS 102
Volume C: UK Reporting - IFRSs;
Volume E: UK Reporting- IAS 39 and related Standards.