Petroleum Resource Management: How Governments Manage Their Offshore Petroleum Resources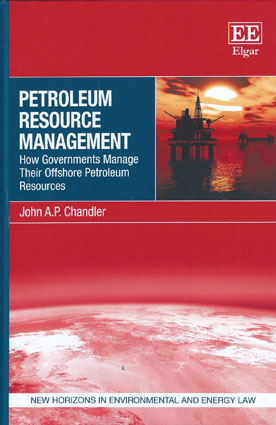 ISBN13: 9781786432209
Published: October 2018
Publisher: Edward Elgar Publishing Limited
Country of Publication: UK
Format: Hardback
Price: £110.00

Petroleum Resource Management offers a thought-provoking examination of how countries manage their offshore petroleum resources by comparing the different approaches to licensing and regulation taken by Australia, Norway and the UK.
Based on extensive research into their policies, licensing systems and resource management regulations, including interviews with government regulators and companies, John Chandler explores how these countries all face similar challenges as their offshore petroleum basins mature, including smaller discoveries, marginal production and ageing infrastructure.
Identifying further challenges such as climate change and the increasing accountability in relation to sustainability and social issues, Chandler analyses how their petroleum policy, systems of regulation, and regulators developed up to the present, and how they are responding to these challenges, as well as how they deal with exploration, development, infrastructure sharing, and production.
This timely and informative book will be essential reading for those in petroleum policy and governance, including petroleum lawyers, government officials, regulators and analysts. Academics and students on courses relating to petroleum regulation and the governance of resources will also benefit from this engaging book.