Shari'ah: Islamic Law 2nd ed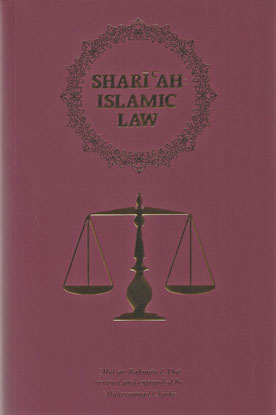 ISBN13: 9781842000854
Published: April 2008
Publisher: TaHa Publishers Ltd
Country of Publication: UK
Format: Paperback
Price: £21.00

Despatched in 9 to 11 days.
The Shari'ah has long been the standard reference on the subject in English. The author first establishes the principles on which the Shari'ah rests: the Book of Allah, the Sunnah, the consensus of knowledgeable Muslims, and the intellectual tools of ijtihad such as analogical reasoning.
Each chapter of Shart'ah begins with the relevant ayat of the Qur'an, often giving the commentary on those ayat from the most reliable works of commentary. Then the book proceeds to the Sunnah of the Messenger of Allah each hadith being meticulously sourced from the major collections and re-translated according to well known explanatory works on the hadith literature.
The author often gives the judgements of the four schools and the major "ulama" from a wide range of classical texts. The work has received a very extensive overhaul and update with considerable new material available in English for the first time.
PROFESSOR ABDUR RAHMAN I. Dor (1933 - 1999) was born in Himmatnagar, Gujarat in India and educated at the University of Bombay, and later at Cambridge University, England. He taught for many years in various institutions in Nigeria. He held posts in Malaysia and the position of honorary professor at Universitas Islamica, Italy, and was visiting professor to University of Bayreuth, Germany and University of Bordeaux, France. Towards the end of his life he lived and taught in South Africa. Of all his authorship, he is most justly famous for this work.
ABDASSAMAD CLARKE is from Ulster and was formally educated in Edinburgh. He accepted Islam in 1973 and later studied Arabic, taiuiid and other Islamic sciences in Cairo. He has a number of translations of classical Arabic works. He is currently an imam and teacher at the Ihsan Mosque, Norwich, UK.