Laytime and Demurrage 6th ed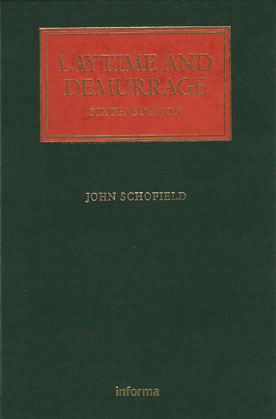 ISBN13: 9781843119456
Published: July 2011
Publisher: Informa Law
Country of Publication: UK
Format: Hardback
Price: Out of print

Laytime and Demurrage, 6th Edition is an indispensable book for those new to laytime and demurrage as well as anyone who needs a more in-depth analysis. The laytime and demurrage clause appears in almost all carriage contracts and consequently there are now over 1,000 reported cases on the subject.
This updated edition provides:-
the general principles of laytime and demurrage, providing an overview to those relatively new to the subject
in-depth analysis of laytime clauses - both fixed laytime and customary laytime
important detailed analysis of the rules relating to commencement of laytime in berth, dock and port charters
in-depth coverage of why laytime can be suspended
detailed analysis of demurrage clauses
Laytime and Demurrage, 6th ed
is considered as the main source of authority on all issues to do with laytime and demurrage. While other books cover laytime or demurrage, this covers both areas in detail.
This book would be of value to practitioners who deal with maritime matters, Ship owners, Ship operators, Ship managers, Charterers, Charterers' agents and ships agents, Shipbrokers, Commodity traders and brokers and Arbitrators and other professionals involved in dispute resolution.