Though the Heavens May Fall: The Landmark Trial That Led to the End of Slavery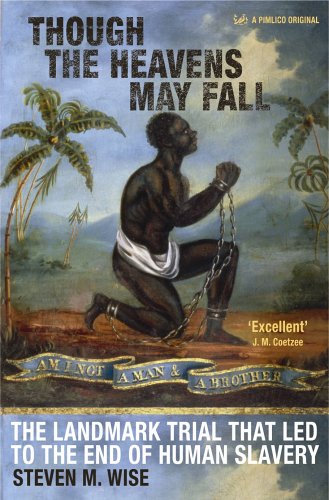 ISBN13: 9781844134304
ISBN: 184413430X
Published: January 2006
Publisher: Pimlico
Country of Publication: UK
Format: Paperback
Price: £14.99 - Unavailable at Publisher

Perhaps no trial changed the course of history as much as one that took place in London in 1772: the case of James Somerset, a black man rescued from a ship bound for the West Indies slave markets. At this landmark trial, two encompassing world views clashed in an event of passionate drama and far-reaching significance.
Now the noted legal historian Steven M Wise recreates each exciting moment of the case that slave owners contended would do nothing less than bring the economy of the British Empire to a crashing halt. In a gripping narrative of Somerset's trail - and the slave trials that led up to it - Wise sets the stage for the extraordinary decision by the notoriously conservative judge, Lord Mansfield. That decision would set in motion the abolition of slavery in both England and the United States.
The characters who shaped this great historical moment go beyond a screenwriter's dream: Somerset's novice attorneys arguing their first case before the august court; the fervent British abolitionist Granville Sharp, a cross between William Lloyd Garrison and Ralph Nader; the slave master's skilful, two-faced lawyer; and finally the greatest judge of his time, Lord Mansfield, whose own mulatto grand-niece was his slave.
As the case drew to a close and defenders of slavery pleaded with Lord Mansfield to maintain the system, the judge spoke the words that continue to resound more than two centuries later: 'Let Justice be done, though the Heavens may fall.'