The Supreme Court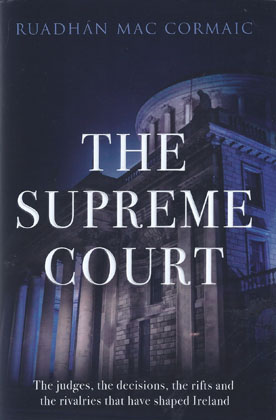 ISBN13: 9781844883400
Published: September 2016
Publisher: Penguin Books
Country of Publication: Ireland
Format: Hardback
Price: £22.50

Despatched in 11 to 13 days.
The judges, the decisions, the rifts and the rivalries that have shaped Ireland.
The work of the Supreme Court is at the heart of the private and public life of the Irish nation. Whether it's a father trying to overturn his child's adoption, a woman asserting her right to control her fertility, republicans fighting extradition, political activists demanding an equal hearing in the media, women looking to serve on juries, the state attempting to prevent a teenager ending her pregnancy, a couple challenging the tax laws, a gay man fighting his criminalization simply for being gay, a disabled young man and his mother seeking to vindicate his right to an education, the court's decisions can change lives.
However, in close to a century of its existence, the Supreme Court's story is largely unwritten and beyond their judgements its members have generally remained silent.
Now, having had unprecedented access to a vast number of sources, and conducted hundreds of interviews, including with key insiders, award-winning Irish Times journalist Ruadhan Mac Cormaic lifts the veil on the court's hidden world.
The Supreme Court reveals new and surprising information about well-known cases. It exposes the sometimes fractious relationship between the court and the government. But above all it tells a story about people - those who brought the cases, those who argued in court, those who dealt with the fallout and, above all, those who took the decisions.
Judges' backgrounds and relationships, their politics and temperaments, as well as the internal tensions between them, are vital to understanding how the court works and are explored here in fascinating detail.