Civil Costs: Law and Practice 3rd ed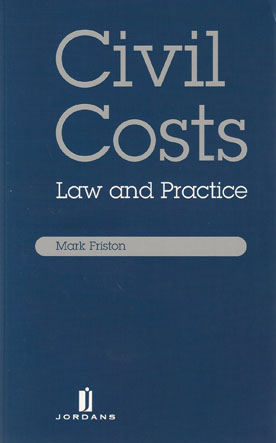 ISBN13: 9781846618437
To be Published: December 2019
Publisher: Jordan Publishing Ltd
Country of Publication: UK
Format: Paperback
Price: £99.00

Publication date uncertain
Civil Costs: Law and Practice is well established as the authoritative reference for both costs practitioners and those who need a more rigorous analysis of the law than is possible in popular shorter works on the subject. Independent reviewers have said that it is 'the Bible of the legal costs world' and that it is 'a life support system for every litigator'.
All aspects of civil costs law are covered. The detailed commentary is scrupulously impartial, such that independent reviewers have noted that 'there is not a single proposition put forward that does not have a detailed corresponding reference for the authority'. Reviewers have also noted that on 'the rare occasion where the writer's opinion alone is being given, this is made crystal clear'. The authorities are often quoted word-for-word, but even when they are not, they are cited, usually with pinpoint precision. There are literally thousands of footnotes, and where appropriate, difficult points are explained by way of flowcharts or diagrams. All of the rates and figures that a costs practitioner could wish for are set out in easily accessible forms, such as tables and charts.
Many of the chapters have been substantially rewritten for the third edition, and all the major changes and developments since the Jackson Reforms are addressed, including:
Consumer protection and contracts of retainer;
Costs budgeting and prospective case management;
Relief from sanctions following Mitchell and Denton;
Human rights and the recovery of success fees;
The rise in applications for security for costs;
The greater use of orders for interim payments;
Changes in the way the Bar charges for its services;
Proportionality under the new overriding objective;
Provisional assessments;
The expansion of fixed costs regimes;
Part 36 offers, in both substantive litigation and in costs litigation;
The changes in costs procedure, including the compulsory requirement to make an offer;
Changes to the format of Bills of Costs and Points of Dispute.
Civil Costs
is written primarily for members of the judiciary who deal with civil costs, and for costs lawyers, costs draftsmen and costs counsel. Civil litigators, barristers practising civil law and managing partners will also find it useful. Unusually for a practitioners' text, it is well regarded by common law lawyers outside England and Wales. This is because its extensive citation of older authorities makes it easy to identify principles that are globally relevant.