The White Book Service 2007: Civil Procedure Volumes 1 & 2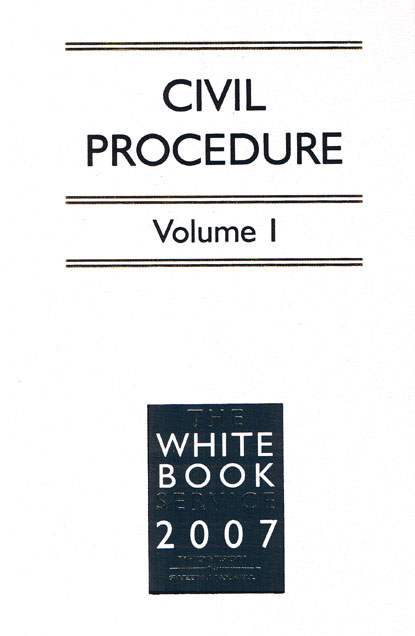 ISBN13: 9781847031587
Published: April 2007
Publisher: Sweet & Maxwell Ltd
Country of Publication: UK
Format: Hardback, 2 Volumes & Forms CD-ROM
Special Offer: Out of print
(Usual price £150.00)
Subscription Type: Annual Subscription
Out Of Print - Second Hand may be available
The White Book Service gives you with all the information you need to practise in the civil court. Coverage includes the Civil Procedure Rules, Practice Directions, Pre-Action Protocols and Court Guides. Together with high quality comment and analysis and helpful procedural tables, the White Book is the civil lawyer's bible - whether you practise in the county court, High Court, or specialist courts.
The White Book Service 2007 ensures you always have access to the most recent version of the Rules, Practice Directions and key case decisions.
What's new for 2007
For 2007, The White Book Service is sharper than ever. Ready for the new legal landscape, we've improved, so you are better informed and better prepared for court. New guides, content and updates are complemented by increased functionality to make your legal life easier.
NEW PROCEDURAL GUIDES

Find a further 18 Procedural Guides, taking the number of these invaluable at-a-glance guides to 77.
Each is presented in a user friendly format that helps you by referring to the correct Rules and / or Form as well as notable cases.

BRAND NEW CONTENT

An Expanded Consumer Credit and Consumer Law section
New commentary on Inheritance within Probate and Inheritance
All new Queen's Bench, Admiralty and Commercial Courts Guides

UPDATES AND EXPANSIONS

Includes fully updated materials following recent Rule changes, in particular Part 36
Fully updated House of Lords Appeals sections
Expanded and updated discussion on Estates, Trusts and Charities

EVEN EASIER TO USE

All information is presented clearly and logically, featuring a taxonomic indexing for structured, consistent and quick access to information
CPR Part numbers are now included on thumb tabs for enhanced navigation
Revised headings and layout in Part 48 (Costs – Special Cases)