The White Book Service 2008: Civil Procedure Volumes 1 & 2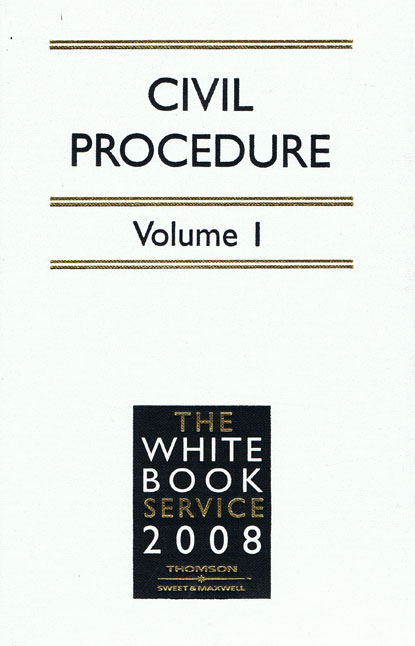 ISBN13: 9781847035028
Published: April 2008
Publisher: Sweet & Maxwell Ltd
Country of Publication: UK
Format: Hardback, 2 Volumes & Forms CD-ROM
Price: Out of print

Out Of Print - Second Hand may be available
There have been a number of changes to The White Book 2008 from the previous year, and some material has moved volume or has been put onto the full CD-ROM. The details can be seen at White Book changes for 2008
The White Book 2008 presents the conclusive statement on civil procedure and continues to provide the highest quality commentary and expert opinion. It gives you immediate clarification of complex procedure. Be confident in court, no matter the intricacies of your case.
The unprecedented breadth of coverage spans commentary on: specific practice areas, procedural guides, court guides and a wealth of CPR and miscellaneous practice directions.
Everything for the High Court or county court
Find all the support materials to make a case go smoothly
Gain flexible, searchable and downloadable access to the Rule and brand new materials with the Civil Procedure CD
Be fully briefed on developments through regular supplements and newsletters
The full White Book Service 2008 service offers everything needed to stay at the top of your game including a CD-ROM with editable forms, a Rules and forms email alerter service, two supplements a year and a dedicated newsletter.
All updated material will be supplied from Wildy's own distribution centre
Civil Procedure Volume 1
Core materials - Civil Procedure Rules and accompanying commentary.
Civil Procedure Rules and Practice Directions
Pre-action Protocols
Procedural Guides
Table of Time Limits
Glossary
Civil Procedure Volume 2
Materials relating to special procedures under CPR Parts 58 to 63 - essential guidance on specific practice areas.
NEW Litigation and Procedural topics
The Overriding Objective
CPR: Application, Amendments and Interpretation
Rights of Audience
Interim Remedies
Alternative Dispute Resolution
Court Guides
Specialist CPR Parts material
Non-CPR Practice Directions
Commentary on specific practice areas:-
Housing
Business Tenancies
Insolvency
Personal Injury
Consumer Credit
Discrimination
House of Lords Civil Appeals
Court Funds
Costs and Litigation Funding
Jurisdictional and Procedural Legislation
Court Fees
Court Directory
The White Book editorial team have focussed their expertise on giving you the most efficient and dynamic print editions yet. The print volumes present an encyclopaedic reference to civil procedure. You can effortlessly research your case for the county court or the High Court.
Some statutory sections are moving to electronic only formats where they can be accessed more efficiently as part of your desk based research. In 2008 these will include:-
Admiralty/Housing/Personal Injury/Consumer Law
Costs and Litigation Funding
Jurisdictional and Procedural Legislation, e.g.: Supreme Court Act 1981, Count Courts Act 1984, Access to Justice Act 1999, Courts and Legal Services Act 1990, Court of Protection/Trustees/Non-contentious Probate