The White Book Service 2009: Civil Procedure Volumes 1 & 2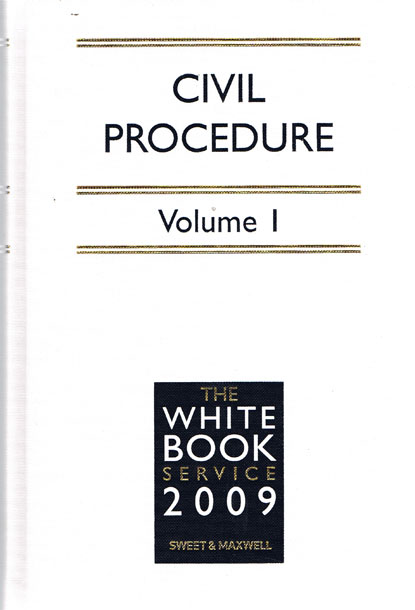 ISBN13: 9781847038425
Published: April 2009
Publisher: Sweet & Maxwell Ltd
Country of Publication: UK
Format: Hardback, 2 Volumes & Forms CD-ROM
Special Offer: Out of print
(Usual price £150.00)
Tired of White? Then Go Green
White Book 2009 Volumes 1 & 2 with full CD-ROM
White Book 2009 Volume 1 only
Whether you practise in the High Court or county courts, the White Book Service 2009 covers every aspect of civil procedure from Rules to guidance, commentary and forms. The White Book 2009:
The Winter 2009 2nd Supplement includes The Supreme Court Rules
Presents the definitive statement on civil procedure in the UK;
Gives you everything you need to practise whether in the High Court or county court;
Puts at your fingertips all the support materials and services you need to make a case go smoothly;
Regular supplements and newsletters mean you are fully briefed on changes and the information to hand is the most current.
New for 2009
In the 2009 edition, you can expect to find updates on all recent developments, case law and statutory updates, including:-
Brand new commentary on the recently substituted Part 6 (Service of Documents)
Commentary of Part 7 (How to Start Proceedings - the Claim Form) in light of the changes to Part 6
Recent CPR Updates including the new pre-action protocol on possession claims (TSO CPR Update 48) and associated commentary
Guidance on the new Part 78 on the European Order for Payment and European Small Claims Procedures
New procedural guides on Freezing Orders and Search Orders; new and revised guides on Service; and revised guide on Warrants for Possession
Updates on the new Litigation and Procedural Topics, including Alternative Dispute Resolution and Interim Remedies
Updates to Costs, particularly to Part 44 (General Rules about Costs) in light of Multiplex Constructions (UK) Ltd v Cleveland Bridge UK Ltd and Cleveland Bridge Dorman Long Engineering Ltd
Updates to the CD, including statutory updates, PI content including the MIB's Supplementary Uninsured Drivers Agreement 2008 and the non-CPR practice direction on court dress
The 2009 edition also includes all statutory developments that have occurred in the last year
EDITOR-IN-CHIEF
The Right Honourable Lord Justice Waller
Vice-President of the Court of Appeal (Civil Division)
GENERAL EDITOR AND EDITOR OF CIVIL PROCEDURE NEWS
Professor I. R. Scott>br> Emeritus Professor, University of Birmingham; Barrister;
Honorary Bencher of Gray's Inn
SENIOR EDITORIAL BOARD
The Right Honourable Sir Henry Brooke
Formerly Vice-President of the Court of Appeal (Civil Division)
District Judge R. N. Hill
District Judge, Recorder and Regional Costs Judge, NE Circuit;
Visiting Professor of Law, Leeds Metropolitan University;
Member of the CPR Committee
Senior Costs Judge P. T. Hurst
Supreme Court Costs Office
His Honour Judge N. J. Madge
Circuit Judge, Harrow Crown Court
Master S. D. Whitaker
Senior Master of the Supreme Court in the Queen's Bench Division and Queen's Remembrancer
And a team of expert contributors.