The Law on Financial Derivatives 5th ed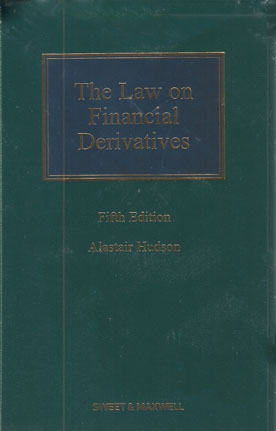 ISBN13: 9781847038890
Published: May 2012
Publisher: Sweet & Maxwell Ltd
Country of Publication: UK
Format: Hardback
Price: Out of print

The Law on Financial Derivatives offers you an extensive analysis and explanation of the legal and regulatory principles underlying over-the-counter (OTC) derivatives in the UK.
Drawing together concepts from many areas of law – including contract, tort, trusts and private international law – it shows how they relate to the day-to-day practice of financial derivatives markets and the completion of standard market contracts.
Whether you're looking for concise, to-the-point guidance on the basic issues of OTC derivatives, or a thorough, in-depth analysis of some of the more complex issues surrounding the industry, this title provides you with all the information you need to advise your clients confidently.
This new edition covers all of the litigation which has arisen in the wake of the collapse of Lehman Brothers and the credit crunch explains the proposals for the regulation of derivatives in the EU and in the USA and provides a full analysis of the ISDA Master Agreement and the many recent cases which have cast doubt on its effectiveness.
Provides an extensive analysis and explanation of the legal and regulatory aspects of over-the-counter (OTC) derivatives in the UK and in the EU
Covers all the key aspects of derivative products such as creating and structuring derivatives contracts, interpreting and performing standard market agreements, effecting security and collateral arrangements, set-off and netting
Considers the manner in which existing legal principles - such as contract, tort, trusts - relate to OTC derivatives transactions
Analyses the new code for the taxation of derivatives in the UK
Discusses conflict of laws issues
Analyses the standard market documentation in depth
Includes in-depth analysis of cases and regulatory changes
Considers real-world problems faced by practitioners working in-house or in private practice, and suggests solutions
New to this edition:
Updated to consider the proposals for the regulation of derivatives in the EU, including the transaction of derivatives on regulated markets and the clearing of derivatives, as well as the impact of MiFID on derivatives
Expanded to include new coverage of collateralised debt obligations
Comprehensive and authoritative analysis of nearly one hundred new cases relating to derivatives, including:

Belmont Park Investments Pty Ltd v BNY Corporate Trustee Services Ltd ("Perpetual Trustee")
BNY Corporate Trustee Services Ltd v Eurosail-UK 2007-3BL
Lomas v AFB Firth Rixson Marine Trade v Pioneer Freight Futures Co Ltd BVI
Pioneer Freight Futures v COSCO Bulk Carriers
Pioneer Freight Futures v TMT Asia
Titan Steel Wheels v Royal Bank of Scotland
Peekay Intermark Ltd v ANZ
Flame SA v Primera Maritime
JP Morgan v Springwell
IFE v Goldman Sachs
Camerata Property Inc v Credit Suisse Securities (Europe) Ltd
Cassa di Risparmio SpA v Barclays Bank Ltd
Cukurova Finance International Ltd v. Alfa Telecom Turkey Ltd
Anthracite Rated Investments (Jersey) Ltd v Lehman Brothers Finance S.A.
Britannia Bulk Navigation v Pioneer Navigation Ltd
Morgan Stanley & Co International plc v China Haisheng Juice Holdings Co Ltd
JP Morgan Chase Bank NA v Berliner Verkehrsbetriebe (BVG) Anstalt Des Offentlichen Rechts
Lehman Brothers Special Financing Inc v Carlton Communications Ltd
Deutsche Morgan Grenfell Group plc v IRC
Prudential plc v Revenue and Customs Commissioners
Kato Kagaku Co Ltd v Revenue and Customs Commissioners
HMRC v Enron Europe
UBS AG v HSH Nordbank AG
Rainy Sky SA v Kookmin Bank

Looks at the legal and regulatory developments arising from the credit crunch
Analyses the Corporation Tax Act 2009 code on the taxation of derivatives contracts
Analyses the recent case law on the interpretation of contracts as it applies to derivatives transactions
Comprehensive analysis of the termination of agreements and of the extensive case law relating to restitution of money paid under failed derivatives contracts
Analysis of the effects of insolvency on set-off and the termination of derivatives
Full analysis of the standard market documentation of derivatives, with advice for in-house counsel and other practitioners