Shareholders' Rights 5th ed with 1st supplement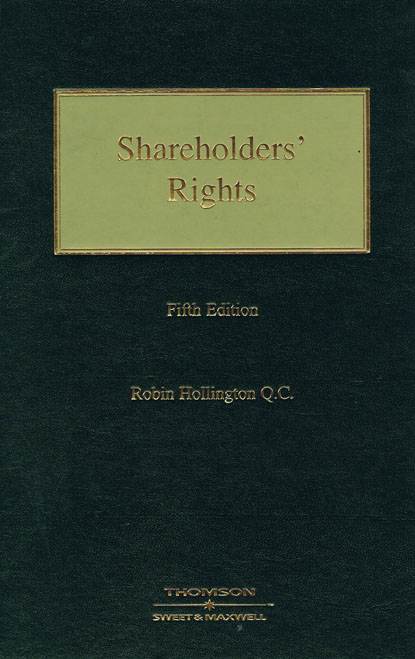 ISBN13: 9781847039132
Published: September 2009
Publisher: Sweet & Maxwell Ltd
Country of Publication: UK
Format: Hardback & Supplement
Price: Out of print

Shareholders' Rights explains the principles behind the rights of individual shareholders in a company. The roles of minority and majority shareholders are analysed showing where the power lies.
There is expert coverage of principles of partnership law, analysis on articles of association, shareholders' agreements and the fiduciary duties of directors. Unfair prejudice remedies are explained and there's guidance on the correct procedure to follow.
International considerations for shareholders rights are addressed throughout so you can make sure you deal with them appropriately.
The 1st Supplement was published in September 2009
The Main Work was published in September 2007
Everything you need to know about shareholders' rights
Provides a one-stop source of information on the rights of shareholders
Shows you what the law says and how it has been applied
Explains the principles that govern the rights of an individual shareholder in a company and the balance of power between the majority and minority shareholders
Clarifies the basis upon which the law in this area is built
Examines the principles of partnership law, such as good faith, which have been adopted in company law
Includes in-depth analysis on articles of association, shareholders' agreements and the fiduciary duties of directors
Explains the principles, remedies, practice and procedure of unfair prejudice remedies
Covers the impact of the Companies Act 2006, notably codification of the law relating to directors' duties and to derivative claims
Updates you on recent key cases, such as Re Chime Corp Ltd, Blackmore v Richardson, Grace v Biagioli, and Re Titanium Electrode Products Ltd
Considers the international element to shareholder's rights in full
Includes precedents for guidance and to provide drafting templates including a Tomlin order and a 'Wallersteiner' costs indemnity order
Provides updating supplements so you are on top of the latest changes