Manual of Accounting: UK GAAP 2012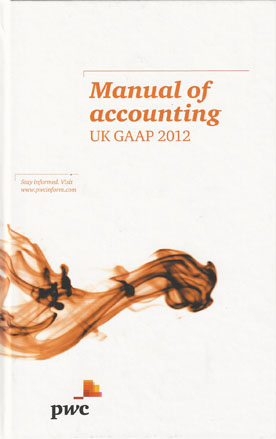 ISBN13: 9781847669032
Published: December 2011
Publisher: Bloomsbury Professional
Country of Publication: UK
Format: Hardback
Price: £80.00

This edition has not been updated since December 2011. The link to 9781780434162 Manual of Accounting: New UK GAAP is a new title that most closely reflects the new rules that come in to force in January 2014
PWC's Manual of Accounting: UK GAAP 2012 provides comprehensive guidance on the UK accounting standards issued by the Accounting Standards Board (ASB) and the accounting requirements of UK law, as well as the other elements that make up UK GAAP.
The manual offers a clear explanation of today's UK reporting requirements in straightforward language. It is a practical and thorough publication that will help you deal with day-to-day tasks as well as difficult issues. In addition to providing reliable up-to-date guidance on UK GAAP and the Companies Act and relevant statutory instruments, it includes hundreds of practical worked examples as well as extracts from company accounts that help to illustrate the explanations and show how even the most complex calculations and disclosures should be made.
Written by PwC's UK Accounting Consulting Services team of specialists, the manual will be of particular interest to finance directors, chief accountants and other concerned with preparing and using company financial statements. Analysts, academics and overseas readers will find is invaluable as a comprehensive description of UK accounting law and practice.
Key changes from previous edition include updated guidance on:
UITF 47 (Abstract 17) 'Extinguishing financial liabilities with equity instruments'
Improvements to FRSs
ICAEW Tech 02/10 guidance on how to determine realised profits and losses under the Companies Act 2006
Updated guidance on the transfer of a business under UK GAAP
Updated extracts and examples