Research and Development Reliefs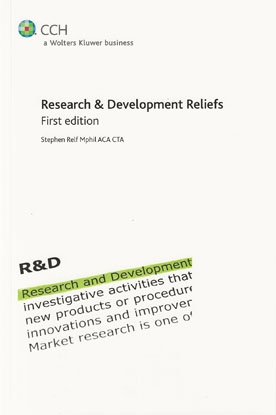 ISBN13: 9781847984074
Published: November 2011
Publisher: CCH Editions
Country of Publication: UK
Format: Paperback
Price: £89.95

Despatched in 4 to 6 days.
Additional tax relief is provided in the UK for expenditure incurred on research and development (R&D). R&D relief is extremely generous and can be claimed by small and large companies. It was estimated in 2009 that 6,000 companies claim additional R&D relief each year.
The relief has been subject to considerable change in recent years and there has been talk that it will be 'refocused' as part of the Government's reform of the CT system.
Most accountancy practices will have clients that claim R&D relief or may be in a position to claim R&D relief in the future. Although practitioners and taxpayers may be familiar with the rules for making a claim, they are likely to be less familiar with the accounting issues and how to determine if a project qualifies, or continues to qualify, as R&D.
Due to the generous nature of the relief, the cost of making an incorrect claim, or of not making a claim when one should have been made, may be considerable.
The book has a wide appeal. The focus is on practical guidance with examples, case studies, flowcharts, diagrams, checklists, timelines and standard letters and claims provided.
The structure of the book will follow the claim process in that it will cover the main areas in the following order:-
How to determine if R&D activity has been undertaken;
Whether or not the expenditure is revenue or capital;
The reliefs available to SMEs;
The reliefs available to large companies;
How to quantify a claim;
Time limits, etc for making a claim; and
HMRC powers, enquiries, etc.
The title will also contain all relevant material, including:
EC Recommendation 2003/361 (used to determine if a company/group is small or large);
DTI Guidelines
Accounting guidance;
Extracts from HMRC guidance; and
Case Law (eg, decision in the recent Gripple case).