Dalhuisen on Transnational and Comparative Commercial, Financial and Trade Law: Boxed Set 4th ed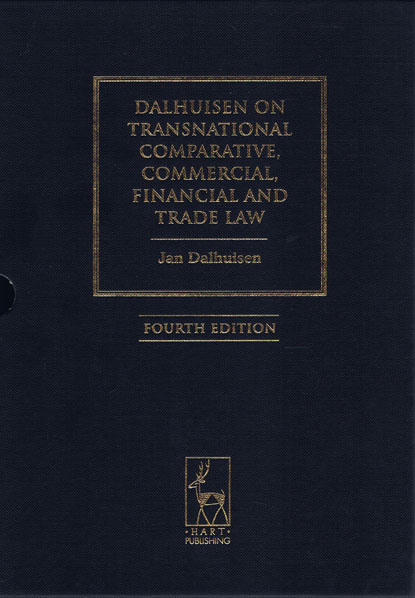 ISBN13: 9781849460620
Published: September 2010
Publisher: Hart Publishing
Country of Publication: UK
Format: Hardback, 3 Volumes
Price: Out of print

This is the fourth edition of the leading work on transnational and comparative commercial and financial law, covering a wide range of complex topics in the modern law of international commerce, finance and trade.
As a guide for students and practitioners it is unrivalled. In a significant departure from earlier editions, the work is now divided into three volumes, each of which can be used independently or as part of the complete work.
Volume one covers the introductory material - historical sources, legal systems, foundations of private law, the forces of transnationalisation and the development of the modern law merchant or lex mercatoria as a largely autonomous finance-driven event.
Volume two deals with international contracts, payments, and moveable tangible and intangible property.
Volume three deals with financial products, financial services and financial regulation, including the fall out from the recent financial crisis, as well as the structure and function of the modern investment banking system.