Parliament and the Law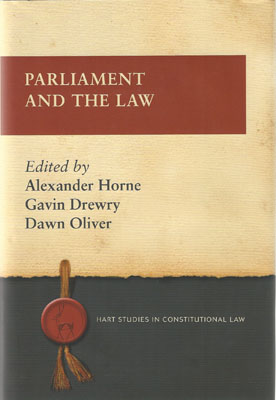 ISBN13: 9781849462952
Published: September 2013
Publisher: Hart Publishing
Country of Publication: UK
Format: Hardback
Price: Out of print

Parliament and the Law is an edited collection of essays, sponsored by the Study of Parliament Group and written by leading constitutional lawyers, practitioners and parliamentary officials.
The book provides a helpful overview of the way that the law applies to Parliament and considers how recent changes to our constitutional arrangements (in particular the establishment of a Supreme Court and increasing devolution) have impacted on Parliament as an institution.
It includes a discussion of a number of topical issues, such as: the operation of parliamentary privilege in civil and criminal law (examining the recent examples of 'super injunctions' and Members' expenses); the powers of Parliament's Select Committees; the work of Parliament's 'watchdog' Committees: the Joint Committee on Human Rights and the House of Lords Constitution Committee.
It reflects on the effect of Freedom of Information on Parliament. It also discusses arguments that have been raised in favour of a new Bill of Rights for the United Kingdom and arguments for and against the continuation of the concept of Parliamentary sovereignty.The book will be of interest to anyone who is curious about how the law interacts with Parliament and is aimed at legal academics, practitioners and political scientists.