Simester and Sullivan's Criminal Law: Theory and Doctrine 5th ed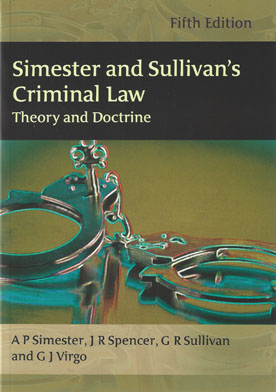 ISBN13: 9781849464444
Published: August 2013
Publisher: Hart Publishing
Country of Publication: UK
Format: Paperback
Price: Out of print

This is the fifth edition of the leading textbook on criminal law by Professors Simester, Spencer, Sullivan and Virgo. Simester and Sullivan is an outstanding account of modern English criminal law, combining detailed exposition and analysis of the law with a careful exploration of its theoretical underpinnings.
Primarily, it is written for undergraduate students of criminal law and it has become the set text in many leading universities. Additionally, the book is used as an important point of reference in academic writing and postgraduate research in England and abroad. Simester and Sullivan has been cited by appellate courts throughout the world.
There have been a large number of important appellate decisions since the last edition of this work. This new case law, among other things, provides helpful guidance for the interpretation of offences under the Serious Crime Act 2007 and the defence of loss of self control provided by the Coroners and Criminal Justice Act 2009.
There have been significant developments in the laws relating to rape, self defence and defence of property, and duress. Special mention should be made of the continuing stream of appellate cases arising from uncertainties as to the nature and scope of secondary liability in the crimes of others.