Financial Remedies Practice 2015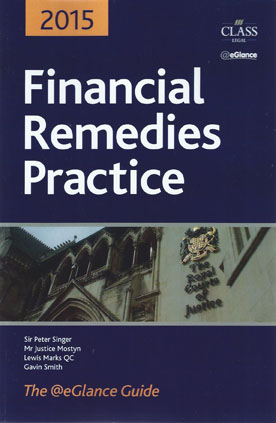 ISBN13: 9781859595626
Published: November 2014
Publisher: Class Legal
Country of Publication: UK
Format: Paperback
Price: Out of print

Financial Remedies Practice 2015 is an essential reference for all family lawyers resolving divorce-related financial issues.
The book combines, in a single volume, authoritative commentary on financial remedies practice and procedure with the full up to date text of the relevant Family Procedure Rules. The commentary is written by the unrivalled team responsible for At A Glance so you can be confident that the guidance is trusted, insightful and up to date.
Crucially the book provides unrivalled coverage of the key decisions and developments under the CPR that now underpin some of the key aspects of financial remedies practice such as appeals and enforcement.
Also included in the price is access to familyprocedure.com. This site contains the full text of the Commentary, updated whenever necessary, linked to the official Rules, Practice Directions, statues and cases law and is the ideal companion when you are out and about and have internet access via a smartphone, tablet or lap top.
Key Changes in the 2015 edition
the revised PD 27A relating to bundles and the restraints on pagination, extent and other matters now being vigorously enforced by the judiciary
the 'Statement on the efficient conduct of financial remedy final hearings' now in operation when the hearing is before a High Court judge
changing approaches to sanctions for breach of procedure in the wake of the CPR decisions in Mitchell & Denton
media reporting of financial remedy cases and the Judicial Proceedings (Regulation of Reports) Act 1926
ongoing changes to allow for family arbitration
and of course the Commentary has been thoroughly revised to explain and clarify all aspects of the new Family Court procedures such as gatekeeping, allocation and routes of appeal