Financial Remedies Practice 2016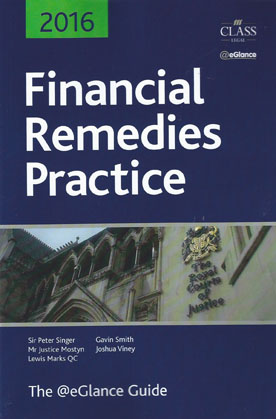 ISBN13: 9781859595862
Published: October 2015
Publisher: Class Legal
Country of Publication: UK
Format: Paperback
Price: Out of print

Financial Remedies Practice is now firmly established as an essential reference for all family lawyers resolving divorcerelated financial issues.
Regularly cited in the higher courts, the book combines, in a single volume, authoritative commentary on financial remedies practice and procedure with the full, up-to-date text of the relevant Family Procedure Rules. The Commentary is written by the team responsible for At A Glance, so you can be confident that the guidance is current, trusted and insightful.
Crucially, the book provides unrivalled coverage of decisions and developments under the CPR that now underpin some of the key aspects of financial remedies practice, such as appeals and enforcement.
KEY CHANGES IN THE 2016 EDITION
This edition is fully up to date with the latest developments over the past year - both in case law and through other guidance – with significant changes covering:
judgments concerning appeals procedure (P v P [2015] EWCA Civ 447, CS v ACS & Anor [2015] EWHC 1005 (Fam), D v D [2015] EWCA Civ 181)
the revised Efficient Conduct Statement
the introduction of centralised divorce processing
recent jurisprudence on relief from sanctions and debarring orders
strike out and the impact of Vince v Wyatt
judicial guidance on bundles following implementation of PD 27A
further amendments to the FPR and Practice Directions.