A Practical Guide to the UK Listing Regime 2nd ed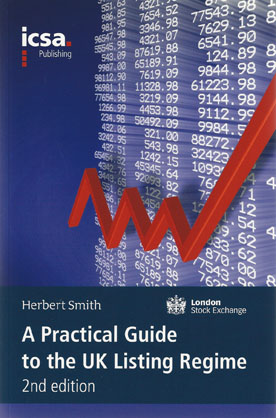 ISBN13: 9781860724404
Published: July 2011
Publisher: ICSA Publishing Ltd
Country of Publication: UK
Format: Paperback
Price: Out of print

This updated edition provides detailed and authoritative guidance on the FSA's Listing and Prospectus rules and the Disclosure and Transparency Rules (DTR Rules) and will prove an invaluable source of practical guidance for those involved in running or advising listed companies.
With the updated Listing Rules being implemented by the FSA in April 2010, this second edition provides timely guidance on the new structure of Premium and Standard listing classes, and how they affect companies. Also covered are the changes in governance standards, including the increased governance requirements for non-UK companies listed in the UK, re-categorisation of listings, pre-emption rights and shareholder notifications.
Practical advice is provided on meeting ongoing obligations laid down by the Listing, Prospectus and DTR Rules on matters such as disclosure; financial reporting; shareholder communication; significant and related party transactions; the roles of a company's sponsor, lawyers and reporting accountants; admission to the Official List and trading on the Main Market of the London Stock Exchange; and the preparation and publication of a Prospectus Directive compliant prospectus.
Featuring a preface from the London Stock Exchange and written by senior partners and advisors at Herbert Smith LLP, a leading full-service international legal practice.