Garrow & Fenton's Law of Personal Property in New Zealand 7th ed: Volume 1 Personal Property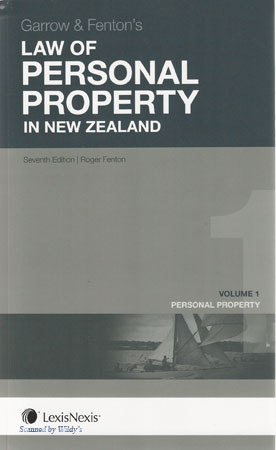 ISBN13: 9781877511493
Published: December 2010
Publisher: LexisNexis New Zealand
Country of Publication: New Zealand
Format: Paperback
Price: Price on Application

The two-volume 7th edition of the highly regarded Garrow and Fenton's Law of Personal Property in New Zealand provides in-depth coverage of personal property securities as well as all other types of personal property. The 7th edition enlarges the role of previous editions, examining recent developments in a wholly modern context.
The only comprehensive and completely up-to-date treatment of the topic of personal property in New Zealand
The two-volume work comprises over 2000 pages of commentary, allowing for in-depth treatment of the relevant topics
Continuation of a well-known and long-established book in the New Zealand market
A must-have title for anyone practising in a commercial or general practice
Written by Dr Roger Fenton, a highly regarded expert in this area of law
Volume 1 covers all types of personal property and includes detailed commentary on ownership of goods or tangible things, fixtures, gifts, bailment, liens, ships (including maritime liens), choses in action, and special forms of choses in action and incorporeal property. It also includes an overview of personal property securities.
The author, Dr Roger Fenton, is a barrister practising in Auckland. He specialises in civil litigation; specifically advising on land law, personal property and equity, and has written extensively in these areas.