Probate and the Administration of Estates: The Law and Practice 2nd ed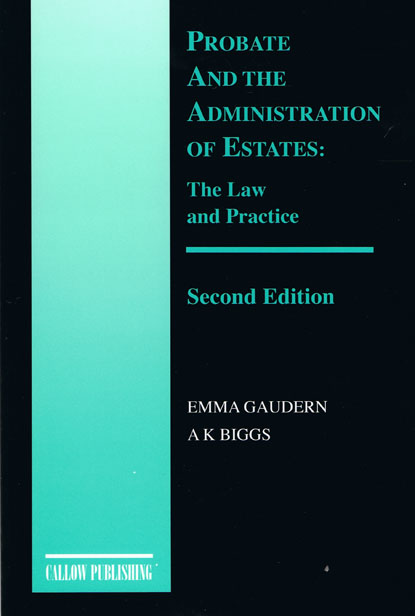 ISBN13: 9781898899938
Published: October 2007
Publisher: Callow Publishing
Country of Publication: UK
Format: Paperback
Price: Out of print

Probate and the Administration of Estates: The Law and Practice is a comprehensive and practical guide to non-contentious probate and the administration of estates. It provides careful explanations of every step in the procedure for winding up the estate of a deceased person, from taking initial instructions to the final distribution of the estate and closing the file. Written by practitioners for practitioners, it is packed with hints and tips, covering procedural complexities, tricky tax points, avoiding delay, and very much more.
The book opens with advice on taking instructions, moving on to tracking down the assets and liabilities which comprise the estate; completing the inheritance tax forms and claiming any appropriate reliefs and allowances; questions concerning Wills and codicils; intestacy - who is entitled to the estate and who is entitled to letters of administration; applying for the grant of representation; collecting in the estate, identifying the beneficiaries and paying the legacies; ensuring all debts and liabilities are met, including finalising the tax situation; and distributing the residue in the estate. Many interim matters are discussed - caveats; citations; renunciations; discretionary orders; applications on summons; and the powers, duties and liabilities of personal representatives. Also touched on are claims by and against an estate, deeds of variation and disclaimers. A full range of specimen forms is provided.
This second edition has been updated to take account of changes brought about by the Mental Capacity Act 2005 and the Civil Partnership Act 2004, as well as a number of Finance Acts. The procedural changes occasioned by the Inheritance Tax (Delivery of Accounts) Regulations 2004 and amendments to those regulations are also dealt with. A number of comments and criticisms have been taken into account, and the text has been expanded where thought necessary to explain further the practice and procedure.