Defending Mentally Disordered Persons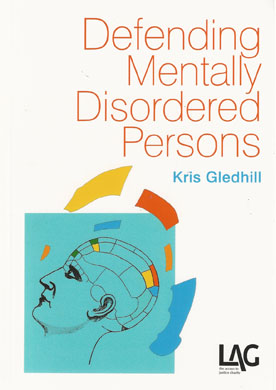 ISBN13: 9781903307281
Published: April 2012
Publisher: Legal Action Group
Country of Publication: UK
Format: Paperback
Price: £48.00

Lawyers representing potentially vulnerable clients need to consider what special needs their clients may have and apply the relevant legal provisions with that in mind. This book provides the bridge between mental health law and criminal law and provides criminal practitioners with the necessary tools to navigate the appropriate route through the criminal justice system if the client may have a mental disorder.
Defending Mentally Disordered Persons sets out the civil and criminal legal framework, which is in large part governed by the Mental Health Act 1983 and the Criminal Procedure (Insanity) Act 1964, and the interaction of UK legislation with the European Convention on Human Rights.
It covers all aspects of the legal process from initial contact with the client at a police station through to procedure and evidence, substantive criminal law, sentencing, treatment of prisoners and appeals. As well as comprehensively setting out the law, the author also provides arguments for where the law could be developed further.
Contents include:-
Introduction to the civil and criminal legal framework
Detention for treatment under the Mental Health Act 1983
Powers of arrest under the Mental Health Act 1983
Treatment in the police station
Decision to prosecute
Bail
Remand prisoners and transfer to hospital
Inability to participate at trial: fitness to plead
Evidence: admissibility, adverse inference and witnesses
Defences of insanity, diminished responsibility, provocation and loss of control
Sentencing: custodial sentences, hospital orders and community sentences
Treatment of prisoners
Appeals
Essential reading for criminal practitioners, academics and students of criminal and mental health law.