LAG: Legal Aid Handbook 2011/12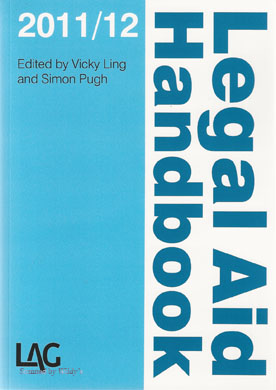 ISBN13: 9781903307847
Published: May 2011
Publisher: Legal Action Group
Country of Publication: UK
Format: Paperback
Price: Out of print

This edition has now been superceded.
All cases started on or after 1 April 2013 will be subject to the LASPO Act - please refer to the 2013/14 Handbook. (Click on link above)
However, you may still need to refer to the 2011/12 Handbook as it describes the rules and regulations subject to the Access to Justice Act (AJA) 1999, and all cases started before the 1 April will be subject to the AJA regime till completion. Correctly submitted applications signed on or before 31 March 2013 and received by the Legal Services Commission (LSC) or the Legal Aid Agency (LAA) by 8 April 2013 will also be subject to the AJA regime.
Contract holders are liable to be audited on cases covered by the AJA regime for at least the next year, so keep your copy of the LAG 2011/12 Handbook to hand to refer to in case there are any queries.
Packed full of case studies, checklists and practical hints the LAG Legal Aid Handbook 2011/12 is the perfect companion to the LSC Manual: easy to navigate, with clear guidance, extensive cross-referencing and signposting of the latest developments.
It brings together information on payment schemes, guidance, case-law, regulations and other items currently buried on the Legal Services Commission website.
The 2011/12 handbook is up to date to include the changes to the family legal aid scheme in effect from May 2011 and includes:-
clear, practical guidance on the rules and regulations that govern the schemes
essential information on conducting cases and getting paid
detailed coverage of the civil, family and criminal advocacy schemes
advice on successful financial and contract management, quality standards and performance monitoring
an up-to-the-minute overview of legal aid policy developments and analysis of proposed reform and the future of publicly funded services
LAG Legal Aid Handbook 2011/12
is essential reading for all legal aid practitioners from caseworkers to senior partners, including those in solicitors' firms, barristers' chambers, Law Centres®, Citizens Advice Bureaux and advice-giving charities, as well as legal cashiers and accountants, district judges and cost officers.