Land Registration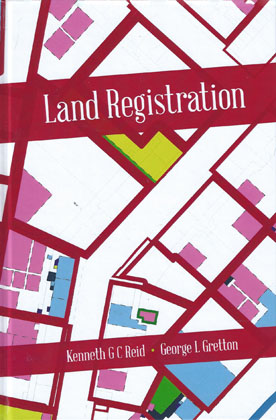 ISBN13: 9781904968702
Published: January 2017
Publisher: Avizandum Publishing Ltd
Country of Publication: Scotland
Format: Hardback
Price: £125.00

The law governing the Land Register of Scotland is substantially recast by the Land Registration etc (Scotland) Act 2012, which came fully into force on 8 December 2014.
In addition, the 2012 Act provides for the phasing out of the Register of Sasines, a register of deeds which has been in continuous use for the last 400 years. The Scottish Government's target is for all titles to have migrated from the Register of Sasines to the Land Register by 2024.
These momentous changes are the subjects of the present book. After introductory chapters tracing the history of land registration in Scotland from its beginnings in the sixteenth century until modern times, Professors Reid and Gretton provide a detailed and authoritative guide to the new law as set out in the 2012 Act and in the numerous statutory instruments made under that Act.
Among the topics covered are:-
the structure and contents of the Land Register
plans and the cadastral map
applications for registration
the completion of the Land Register by 2024
advance notices
inaccuracies and their rectification
realignment of rights
the Keeper's warranty
liabilities of those using the land registration system
examination of registered titles
positive prescription anda non dominodispositions