Avizandum Legislation on the Scots Law of Obligations 7th ed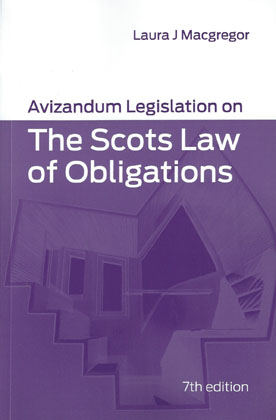 ISBN13: 9781904968719
Published: October 2015
Publisher: Avizandum Publishing Ltd
Country of Publication: Scotland
Format: Paperback
Price: Out of print

Avizandum Legislation on the The Scots Law of Obligations takes a unitary approach to this difficult and fragmentary subject.
It contains a wide-ranging selection of materials on contract, delict and unjustified enrichment, together with provisions which affect the general law on civil liability.
The volume contains:-
Statutes (UK and Scottish)
Statutory instruments (UK and Scottish)
EU materials
Codes
New material for this edition includes the Consumer Rights Act 2015 and the Legal Writings (Counterparts and Delivery) (Scotland) Act 2015.
Avizandum Statutes are designed specifically to provide undergraduates at Scottish universities with legislation and, where appropriate, other core materials in a readily accessible format.
All materials have been selected on the basis of their relevance to university courses and appear in updated form. The lack of annotation and commentary means that the volumes are ideal for use in examinations.