Avizandum Statutes on Scots Commercial and Consumer Law 2015 - 2016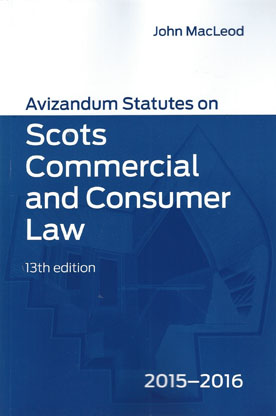 ISBN13: 9781904968726
Published: September 2015
Publisher: Avizandum Publishing Ltd
Country of Publication: Scotland
Format: Paperback
Price: Out of print

Avizandum Statutes on Scots Commercial and Consumer Law contain the main statutory provisions relating to commercial and consumer law in Scotland.
The volume also contains the principal legislation relating to partnerships.
Key contents include:-
Consumer Credit Act 1974
Sale of Goods Act 1979
Bankruptcy (Scotland) Act 1985
Debtors (Scotland) Act 1987, Parts 1, 1A and 3A
Debt Arrangement and Attachment (Scotland) Act 2002
Bankruptcy and Diligence etc (Scotland) Act 2007, Part 5
New material for 2015 includes the Consumer Rights Act 2015 and the Insurance Act 2015.
Avizandum Statutes are designed specifically to provide undergraduates at Scottish universities with legislation and, where appropriate, other core materials in a readily accessible format.