The Future of ICSID and the Place of Investment Treaties in International Law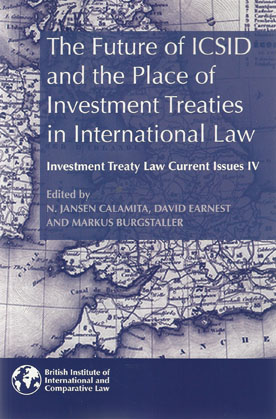 ISBN13: 9781905221509
Published: April 2013
Publisher: British Institute of International and Comparative Law
Country of Publication: UK
Format: Paperback
Price: Out of print

The ICSID system and the international investment treaties that have come to rely upon it face a host of challenges, some new and some persistent.
Increasingly arbitral tribunals charged with the interpretation and application of international investment treaties are being asked to address the critical relationship between those treaties and other regimes of international law, such as the international law of human rights, trade law and the law of the European Union. These questions raise fundamental issues about the scope of investment treaty obligations and the resolution of investment treaty disputes through arbitration.
At the same time as arbitral tribunals are being presented with these fundamental issues regarding the interpretation and application of investment treaties, the ICSID system upon which thousands of international investment treaties rely faces its own ongoing challenge of meeting the goals set for it by its States Parties. Whether the task is addressing the efficient resolution of disputes through the use of ICSID's new summary procedures mechanism or establishing a consistent jurisprudence on annulment, a wide array of new and perennial questions require answers.
The chapters in this volume bring together papers of the Investment Treaty Forum at the British Institute of International and Comparative Law and represent contributions by some of the leading practitioners and scholars in the field. The issues raised and discussed in this volume are as important for practitioners as they are for policy-makers and academics.