Criminal Law in Ireland: Cases and Commentary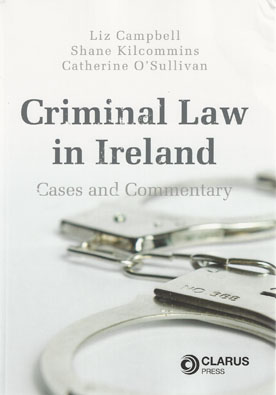 ISBN13: 9781905536252
Published: March 2010
Publisher: Clarus Press
Country of Publication: Ireland
Format: Paperback
Price: £82.00

Despatched in 4 to 6 days.
Criminal Law: Cases and Commentary is a new book from Clarus Press designed to help law students to understand the fundamental rules, principles and policy considerations that govern the criminal law in Ireland.
It attempts to address a comprehensive range of issues including, the definition of a crime, its various classifications, the imposition of liability, the range of substantive criminal law offences, the procedural rules that shape the pre-trial and trial processes and the possible defences that may arise.
It provides students with a broad range of perspectives including formal case law, statutory and constitutional provisions, academic commentaries and Law Reform Commission policy recommendations. It combines domestic law with ECHR jurisprudence and persuasive authorities from other jurisdictions. Through a careful combination of the criminal rules along with excerpts from cases, articles, notes and texts, this book seeks to inform the user of the formal criminal law and provide a gateway to some of the more conceptual debates in the subject area.
The primary purpose of the book is to broaden the reading horizons of law students. It seeks not only to trace the lines of development of the various rules emanating from the courts and the legislature, but also to provide an entry point for broader discursive analysis of the workings of those rules, the ideological currents running through them and the policy implications for choosing one rule over another