Directors' Liability and Indemnification: A Global Guide 2nd Ed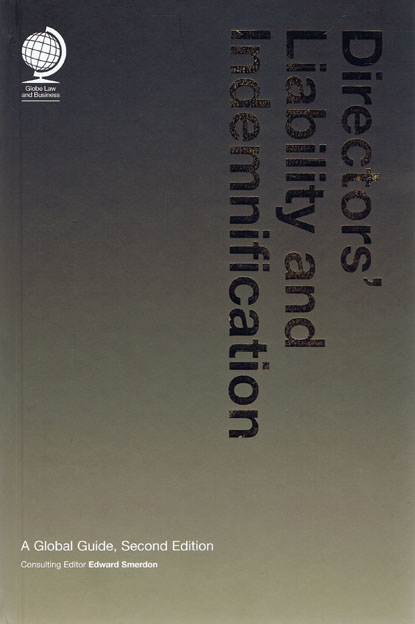 ISBN13: 9781905783342
Published: January 2011
Publisher: Globe Law and Business
Country of Publication: UK
Format: Hardback
Price: Out of print

Directors' liabilities have been a key concern in boardrooms since the various high-profile corporate failures in Europe and the United States over the past two decades, when regulation increased and shareholders' and companies' rights to bring civil claims were extended.
The current financial crisis will inevitably bring with it greater risks and challenges for directors. There is an increasingly aggressive environment for civil claims, fuelled by insolvencies, shareholder pressure and public outcry. The attention of the regulators is also ever more sharply focused on directors' conduct. Directors are understandably looking closely at the protection available to them, through both indemnification and directors' and officers' insurance.
The exposures faced by directors and the extent to which indemnification and insurance may provide protection vary significantly around the world. This comprehensive second edition features contributions by leading experts on the important aspects of directors' liability, the protection available to directors and the risks of doing businesses in multiple jurisdictions.
New to the second edition are chapters on China, the Czech Republic, Kazakhstan, Slovakia, South Korea and the United Arab Emirates. In addition to civil claims and indemnification, each chapter now includes commentary on regulatory and criminal liability. Particular focus is placed on the impact of the credit crisis. The book also features a new section dealing with regulatory issues surrounding global directors' and officers' programmes and their ability to provide cover in all intended jurisdictions.
Unique in its approach, this new title is a powerful tool in assisting directors, officers, in-house counsel and the private practice lawyers advising them to make well-informed judgements about the risks they are taking.