CPAG: Universal Credit: What You Need to Know 2nd ed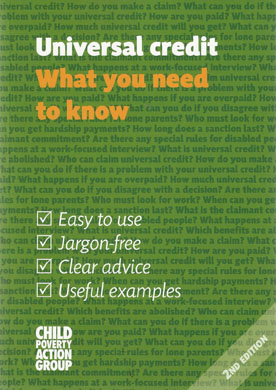 ISBN13: 9781906076726
Published: July 2013
Publisher: Child Poverty Action Group
Country of Publication: UK
Format: Paperback
Price: Out of print

Universal credit will be a complete change to the system of financial support for people of working age. The new system is still being designed but much is already known about how it is expected to work.
This new guide includes what is currently known about universal credit, with CPAG commentary and analysis. It is the first in our new series of "essentials" guides, designed to help you get to grips with new and important issues in social security.
Contents include:-
Who will be able to claim?
How to make a claim
How much will you get?
What will you be expected to do?
When can you be given a financial penalty?
What if there is a problem?
Universal credit and other benefits
How universal credit will affect certain people Contents include:
Advisers are already asking how universal credit will affect their clients. Our aim in publishing this first edition is to provide answers that are available so far, and help you prepare for the major upheaval that universal credit will bring. We plan further editions once more detail becomes known about how universal credit will work.
This guide supplements the universal credit information in our main Welfare Benefits and Tax Credits Handbook. The guide aims to be an accessible "essentials" guide rather than a detailed guide to the law.
Published to coincide with the Welfare Reform Bill being passed in Parliament, it draws on CPAG's extensive work on the Bill to make an informed assessment of how the new system will work, and what problems may arise. The authors are a group of highly experienced advisers from CPAG's welfare rights team.