The Legal 500: Asia Pacific 2014: The Clients' Guide to the Asia Pacific Legal Profession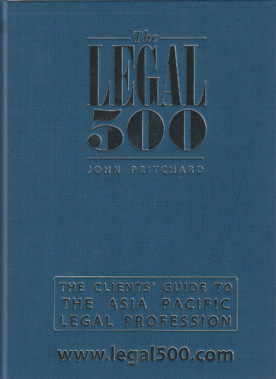 ISBN13: 9781906854812
Published: December 2013
Publisher: Legalease
Country of Publication: UK
Format: Hardback
Price: Out of print

The Legal 500 Asia Pacific 2014 is a guide to the leading commercial law firms in Aisa and Australia. Each chapter falls into two distinct parts: the editorial section and the directory section. The editorial section is a mixture of factual information and commentary.
The commentary consists of a general review of which firms do what types of work, and which firms are generally considered by their peers and clients to have a 'good name' within the national and international legal community.
The editorial is based largely on the combined opinions of the many lawyers and clients who contributed to the research in each country, and on records of transactions and deals in the public domain. Accordingly, it is important to appreciate that the editorial lists should not be taken as a definitive statement on law firms or offices, but rather as a starting point for discussion.
It should also be noted that all editorial comments and directory listings and completely independent and that no firm has been able to secure its inclusion within the editorial sections.
The directory section for each country is made up of professional cards and is based on information supplied by the firms, and approved by them prior to publication.