Register of Laws of the Arabian Gulf Looseleaf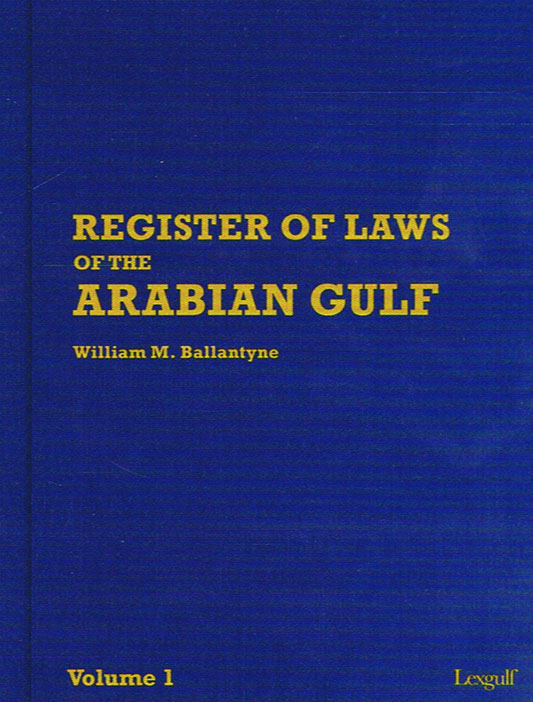 ISBN13: 9781907229008
Published: January 2009
Publisher: Thomson Reuters Dubai
Country of Publication: Dubai
Format: Looseleaf
Price: Out of print

Subscription Type: Annual Subscription
Domestic Renewal Price: £1587.00
Overseas Renewal Price: £1587.00
This major reference work allows lawyers and scholars dealing with the Arabian Gulf to have access to a database which identifies laws and regulations originating in each country of the Arab Gulf from the commencement of legislative promulgation to the present day. (The Register covers all the laws in Professor Ballantyne's library collected and compiled in over 50 years of legal practice in or with the region.) Such a comprehensive source is invaluable to lawyers wishing to identify the evolution of a particular series of legislative measures over a period of time or to verify when a certain legislative instrument was promulgated. No similar work exists in the English language.
Requiring a high degree of expertise in its compilation and translation from the Arabic, the Register is compiled directly from the original Arabic sources – principally from the Official Gazettes of the Gulf Cooperation Council states of:-
Bahrain,
Kuwait,
Oman,
Qatar,
Saudi Arabia,
and the United Arab Emirates, including the individual emirates of Abu Dhabi and Dubai.
The coverage is however not limited to these sources, and includes the laws passed during and surviving from the British extraterritorial system in the Persian Gulf which terminated in 1961 in Kuwait and in 1971 in the rest of the Gulf. Enactments promulgated simultaneously by the Rulers in their own parallel jurisdictions are also included.
Helpful practical features include a comprehensive subject heading index for each country which allows rapid retrieval of information required. Quarterly supplements to the main work in two volumes allow subscribers to maintain a completely current record of legislation for all the G.C.C. states.
The Register of Laws of the Arabian Gulf was formerly published by Brill Academic Publishers (isbn 9781853338106) but from 2008 will now be published regularly by Lexgulf Publishers Ltd of London.
The shortage of reference sources for the laws of the member states of the Gulf Cooperation Council has made research in this field extremely challenging. Now lawyers dealing with the GCC can solve this problem by using The Register of Laws of the Arabian Gulf, with its regular quarterly updating service, as an invaluable aid to researching the law in any of the GCC states.