VAT and the NHS: A Comprehensive Guide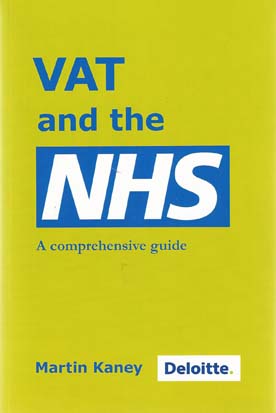 ISBN13: 9781907444166
Published: September 2012
Publisher: Spiramus Press Ltd
Country of Publication: UK
Format: Paperback
Price: Out of print

VAT & the NHS is intended to be both a reference manual and a practical guide to managing VAT in the NHS. For reference there is a Glossary of Terms, a list of Definitions and a list of References.
Many of the areas covered in the text are complex in themselves and VAT & the NHS does not attempt to examine all possibilities in all circumstances or to reproduce the full technical guidance or statute. Rather the objective is to identify all of the issues in the tax relevant to the NHS and in a logical analysis explain these from an NHS compliance perspective and in relation to the organisational activities of the NHS (providing further references where appropriate if more detailed information is required).
As always in VAT there are various areas of uncertainty and unresolved issues and this is in the nature of the tax which is constantly evolving through case law and new legislation. VAT & the NHS is based on published HMRC and HMT guidance and policy and on current case law and legislation in force as at 30 June 2012.