Employment Related Securities and Unlisted Companies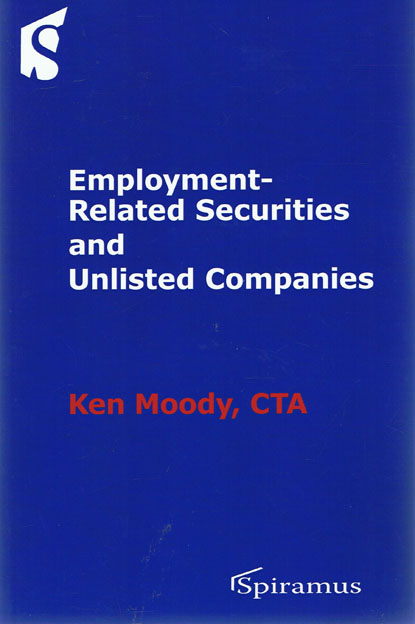 ISBN13: 9781907444371
Published: November 2010
Publisher: Spiramus Press Ltd
Country of Publication: UK
Format: Paperback
Price: Out of print

This book has needed writing since the current rules on employment-related securities were introduced in Finance Act 2003. Other works deal with tax-advantaged share and share option schemes but such schemes are typically of interest to the larger company.
This book is written with unlisted, mainly private companies in mind and so, with one exception, deals with employee share acquisitions which do not benefit from any special tax advantages. The exception is the Enterprise Management Incentives (EMI) share option scheme, which is mainly for unlisted companies and so is covered in this book.
The vast majority of companies registered at Companies House are owner-managed private companies. The employment-related securities (ERS) regime applies to all shares owned by directors or employees in the company or group they work for with few exceptions. This book is of importance therefore for all shareholder-directors and employees of such companies, and for their professional advisers.
Often the tax implications of the ERS rules are not onerous, but sometimes result in an income tax charge for the employee, and the company may also be obliged to pay PAYE and National Insurance Contributions.
It has been the case for many years that if a director or employee acquires shares free or for less than they are worth, they are liable to income tax on the difference. This book explains how the rules for taxing such share awards work, including the rules for non-HMRC approved share options and for options qualifying under EMI. There are also chapters dealing with capital gains tax aspects of shares and share options, the PAYE and national insurance implications and the corporation tax deduction which may be claimed by the company.
Form 42 giving details of employee share acquisitions can be a perennial headache for companies and their advisers. This book explains in detail what the entries mean and how to complete these.
There is no other publication of its type which deals with the ERS rules in depth and, as explained, this is a subject which all company owner-managers and their advisers need to be informed about.