301 Legal Forms Letters & Agreements 10th ed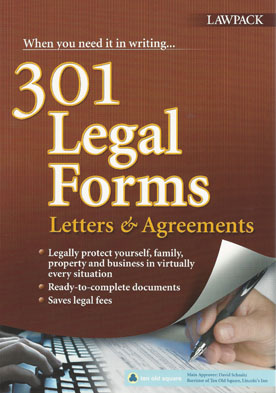 ISBN13: 9781907765834
Published: July 2012
Publisher: Lawpack Publishing Ltd
Country of Publication: UK
Format: Paperback
Price: £24.99

301 Legal Forms, Letters and Agreements will help you get it in writing. It contains a legal form for practically every home and business need. Start saving legal fees now with this compendium of legally valid legal forms for use in both your business and your everyday life.
You know how it is. You just want to get something in writing... but you don't want to pay the legal fees involved in getting a legal professional to draft it for you.
Lawpack, the DIY law specialists, can help. If there is a simple legal template for what you want, you will find it in 301 Legal Forms, Letters and Agreements, with instructions on using and completing each legal form. What you get is quite simply a huge range of solutions in one bestselling paperback book - now in it's Ninth Edition and still packed with draft letters and pre-printed legal forms covering a wide range of legal situations.
It provides a complete DIY law library of 301 ready-to-use legal forms and documents, written and approved by solicitors, for business or personal use. It is there to safeguard your legal rights and protect you, your family, your property and your business from everyday legal problems, without the inconvenience or cost of using a solicitor.
Using 301 Legal Forms Letters and Agreements is an ideal way of getting it in writing. What better way is there to document your important transactions, avoid costly disputes and enforce your legal rights? In a few minutes you can draw up the legal form or agreement you need to sidestep misunderstandings, comply with legal obligations and avoid liability.
Areas covered include loans and borrowing, buying and selling, employment, personal and family, credit and debt collection, transfers and assignments, business and residential tenancy.