Risk and Compliance for Law Firms in a Changed World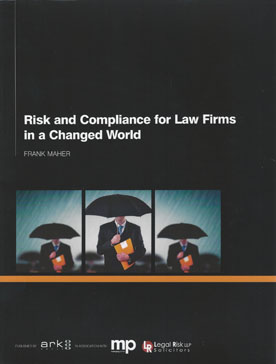 ISBN13: 9781907787591
Published: July 2011
Publisher: Ark Group
Country of Publication: UK
Format: Paperback (127 Pages)
Price: £199.00

The radical shift to outcomes-focused regulation on the 6th October 2011 will impose a significant increase in the burden of regulatory compliance on all firms which have offices in England and Wales - including their overseas offices.
The full extent of the impact that ABSs will have in the future, great or small, will also only unfold with time. Meanwhile law firms face a variety of other challenges including emerging issues in anti-money laundering compliance, and rising to the challenge of client pressure on costs through outsourcing in various forms and to a variety of jurisdictions.
Risk and Compliance for Law Firms in a Changed World has been written specifically to provide a clear understanding of how these issues can affect your firm, and how to respond to ensure they are managed successfully. Using clear and practical examples the report will guide you you through the distinct requirements of a risk management system, including: Responsibility at senior management level; A framework for managing risk across all parts of the business; Integration of risk management processes into firm culture; Accountability in each practice area and support function; A risk evaluation process; External assessment; and Business continuity planning. Subjects covered include: The new SRA Handbook; The appointment of Compliance Officers under OFR; People and culture issues; Client engagement; Finance; Protecting partner assets; Compliance; File auditing; Managing your insurance; Office systems; Location and premises issues; Professional indemnity insurance; Outsourcing; and much more - Risk and Compliance for Law Firms in a Changed World provides an in-depth analysis of key risk areas within law firms and aims to help firms meet new and emerging challenges with clear, practical examples.