Stamp Duty Land Tax: A Practical Guide 4th ed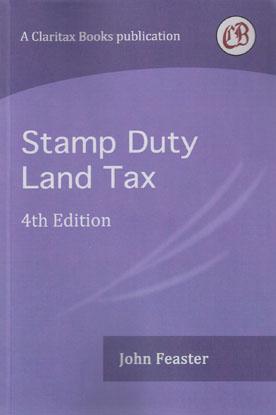 ISBN13: 9781908545640
Published: April 2015
Publisher: Claritax Books
Country of Publication: UK
Format: Paperback
Price: Out of print

Now in its fourth edition, Stamp Duty Land Tax is a well written, mid-level guide to the complexities of SDLT.
This book is written by solicitor John Feaster for accountants, solicitors and others who do not necessarily specialise in SDLT but who need clear, practical guidance on the topic at an intermediate level. Each chapter contains a clear explanation of the relevant principles along with practical examples.
Topics covered include: basic principles, leasehold transactions, partnerships, trusts and reliefs. The legacy of stamp duty is considered, as are the pervading effects of anti-avoidance legislation and recent tribunal decisions. Full reference is made throughout to relevant legislation, case law and guidance from HMRC.
New for this edition (April 2015)
The main changes in this fourth edition are as follows:
overhaul of the SDLT rates applying to residential property, including transitional rules;
abolition of the regressive 'slab' system of taxation;
introduction to the new Scottish "land and buildings transaction tax" to replace SDLT north of the border;
updated coverage of penalties;
multiple dwellings relief;
ATED exclusions, plus SDLT on de-enveloping transactions;
Upper Tier decision re SDLT anti-avoidance rules (Project Blue);
follower and accelerated payment notices;
updated coverage of anti-avoidance rules generally;
miscellaneous issues, including trees growing on land; loans on winding up; chargeable consideration and fees; renewable energy; updated coverage of shared ownership schemes; FA 2015 developments re leasebacks; partial charities relief