Employee Benefits and Expenses: Compliance and Tax Planning 2016 ed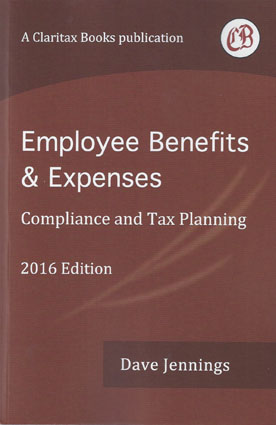 ISBN13: 9781908545787
Published: April 2016
Publisher: Claritax Books
Country of Publication: UK
Format: Paperback
Price: Out of print

Now in one volume, this major work on employee benefits and expenses will prove its value throughout the year. At one level, the book will help with year-end compliance.
At another, the aim is to help finance directors, tax advisers and payroll departments to plan the provision of employee benefits with a full understanding of the appropriate tax rules. By helping readers to avoid stumbling over the niceties of company car fuel, or the intricacies of employee loans, the book will pay back its worth many times over.
Employee Benefits and Expenses: Compliance and Tax Planning 2016 provides a thorough, practical guide to the fast-moving area of employee benefits and expenses: cars and vans, loans, vouchers, compensation payments, travel & subsistence, and much more.
This third edition, published in April 2016, includes:
abolition of dispensations and of £8,500 threshold
new rules re reimbursed expenses, trivial benefits, and payrolling of benefits
new statutory concept of "fair bargain"
new case law re cars, termination payments, foreign service deductions, salary sacrifice, agency workers, third party loans, etc.