CLP Legal Practice Guides: Legal Foundations 2012/13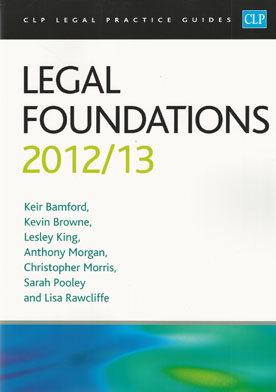 ISBN13: 9781908604835
Published: June 2012
Publisher: College of Law Publishing
Country of Publication: UK
Format: Paperback, A4
Price: £32.95

Unrivalled for clarity, authority and cost effectiveness, the CLP Legal Practice Guides explain in detail the general principles of each area of legal practice covered. Each title in the series is complemented by worked examples, checklists, model forms and relevant legislation.
Published annually, these user-friendly guides are an ideal first point of reference for students studying on the Legal Practice Course and for practitioners, whether newly qualified or as a means of staying up to date with the latest developments.
Legal Foundations 2012/13 provides a practical introduction to five subjects that are an intrinsic part of legal practice and which must be clearly understood by all practitioners:-
Revenue Law,
Professional Conduct,
EU Law,
Human Rights,
and Probate and Administration.
Worked examples illustrate how these topics are applied in practice.