The Legal Process Improvement Toolkit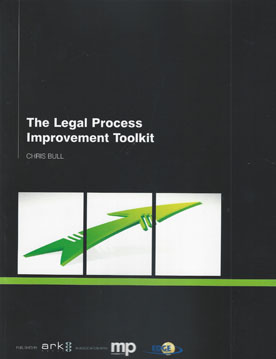 ISBN13: 9781908640291
Published: May 2012
Publisher: Ark Group
Country of Publication: UK
Format: Paperback (130 Pages)
Price: £199.00

Some form of consistent process underpins ALL legal work. Without it, law firms simply could not sustain growth or profits.
Forward-thinking firms are turning to legal process improvement (LPI) to define, document and optimise their processes, to drive efficiency and deliver superior value to their clients. And so can you! Like to know how?
Managing Partner's Legal Process Improvement Toolkit provides a practical introduction for firms looking to understand and use LPI as a critical tool to deliver enhanced services.
It looks at the evolution of LPI, how it fits into the changing legal sector and the impact that new technologies and business models have on legal processes.
Using practical examples the report then provides a 12 tool starter kit outlining the primary methodologies for delivering process improvement within your own firm. These include how to:-
Build a simple process map of your organisation;
Follow a structured approach to identify critical legal business processes;Use models to assess process maturity;
Plan a process maturity action programme;
Organise and manage process improvement initiatives;
Use Six Sigma to improve the quality of your process outputs;
Effectively document and map your processes;Analyse the potential causes and effects of process problems;
Deliver process efficiencies using lean principles;
Implement process principles of 5S;
Capture and use VOC (voice of the client) data; and
Implement LPI as a fundamental component of a successful legal project management programme.
Real-world case studies provide vital insight into the ground-breaking strategies of leading law firms that will prove invaluable when scoping and beginning your own LPI initiative. These include:-
Berwin Leighton Paisner LLP and Thames Water – Designing the managed legal service;
Linklaters and Metastorm BPM – Automating the 'paper job bag';
Novus Law LLC – Bringing world class process excellence to big ticket litigation;
Seyfarth Shaw LLP – Lean in action;
Integreon Managed Services – Tripartite process innovation in action;
Epiq Systems Ltd – Reinventing the 'where' of e-discovery.