The Franchise Law Review 2nd ed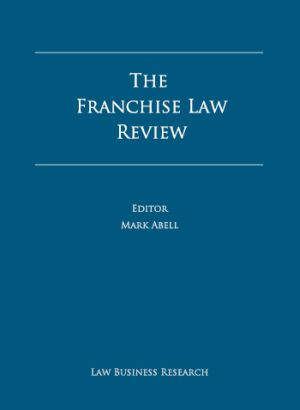 ISBN13: 9781909830325
Published: March 2015
Publisher: Law Business Research Ltd
Country of Publication: UK
Format: Hardback
Price: Out of print

Since the publication of the first edition of the Franchise Law Review there have been some significant economic and geopolitical developments that have had a significant impact on world trade. However, the apparently inexorable march towards the globalisation of commerce has again continued unabated despite, or perhaps even because of, these changes.
Despite the slow emergence of a few economic bright spots, the economy of what was once called the 'developed' world, continues in the most part to struggle, whilst even Brazil, one of the much vaunted BRICS has fallen into recession. As a consequence, businesses are often presented with little choice but to look to more vibrant markets in Asia, the Middle East and Africa for their future growth.
As will be apparent from the chapters of this book, there continues to be no homogenous approach to the regulation of franchising around the globe. Some countries specifically regulate particular aspects of the franchising relationship.
Of these, a number try to ensure an appropriate level of pre-contractual hygiene, while others instead focus on imposing mandatory terms upon the franchise relationship. Some do both. Many countries do not have franchise-specific regulation, but nevertheless strictly regulate certain aspects of the franchise relationship through the complex interplay of more general legal concepts such as antitrust law, intellectual property rights and the doctrine of good faith.
This heterogeneous approach to the regulation of franchising presents yet another barrier to its use as a catalyst for international growth.