Servant of the Crown: A Civil Servant's Story of Criminal Justice and Public Service Reform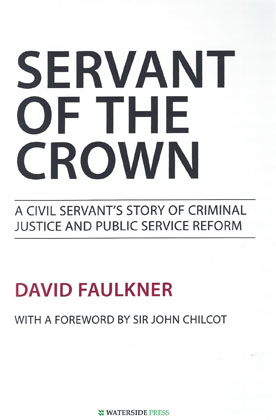 ISBN13: 9781909976023
Published: July 2014
Publisher: Waterside Press
Country of Publication: UK
Format: Paperback
Price: £19.95

Servant of the Crown takes the reader inside Whitehall to see how issues of the day were handled and policies formed as the author progressed to working alongside Home Secretaries and other senior politicians.
Charting high profile events and everyday activities, it covers government's approaches towards political, strategic and operational situations, looking also at traditions of public service and freedom under the law. Centrally the book discusses the relationship between civil servants and ministers; also with judges, magistrates and criminal justice services across a 30-year time frame (from the late-1950s to the early-1990s).
It includes an explanation of the author's understanding of a civil servant's duty as a servant of the Crown, historically and in a world where public services have become increasingly subject to political intervention. The book is illustrated by examples of the interaction between political and professional points of view, covering situations familiar to the police, courts and correctional services.
Equally it will be of interest to students of government, especially those concerned with how policy is formulated in answer to the immediacy of political events or the continuum of knowledge and experiences of civil servants (whichever administration is in power).