The Day the King Died: A Terrible Miscarriage of Justice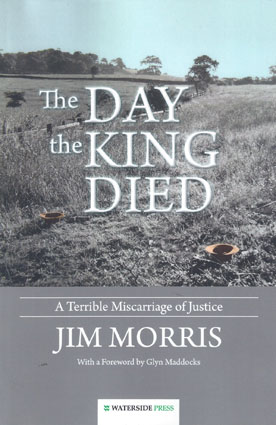 ISBN13: 9781909976139
Published: February 2015
Publisher: Waterside Press
Country of Publication: UK
Format: Paperback
Price: £19.95

The Day the King Died concerns the shooting dead of two police officers and shows how the police convinced themselves that they had the right man. This new book contains a close analysis of the effect of the activities of lawyers and police on the jury in a capital case and reinforces the forceful claims of campaign groups connected to the case.
There was a quaint British convention under which executions were stopped and sentence commuted to life imprisonment if scheduled to take place on the day the sovereign died. Alfred Moore was doubly unfortunate: he was on the scaffold an hour before the death of King George VI was announced.
He protested his innocence all along but never could clear his name as he had vowed to do from the moment of his arrest. In this new book, the author re-assesses this case of the double murder of two police officers and shows why the trial at Leeds Assizes was a travesty of justice — packed with mistakes, inaccuracies, dubious recollections, supposition and conjecture.
Set against the social backdrop of 1950s West Yorkshire, the book analyses the interactions of the lawyers, police and jury and demonstrates the need for caution where accounts may be driven by preconceptions or 'fit' too tidily with those of others. The result is a masterly explanation of the plight of a condemned man caught up in the questionable practices of the era: which adds to the voices of those calling for justice in a case in which police and prosecutors almost certainly put the wrong man on trial.
'My Lord, I protest my innocence. I am not guilty': Alfred Moore on being sentenced to death.