Bugle and Yarrington: Love, Law and Laughter in London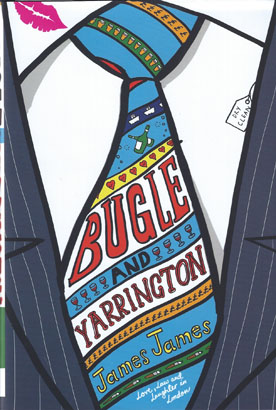 ISBN13: 9781910369012
Published: January 2015
Publisher: Blue Mark Books
Country of Publication: UK
Format: Hardback
Price: £14.99

Bugle and Yarrington: Love, Law and laughter in London is a magnificent romp through London's legal world of the noughties. Solicitor James James is unexpectedly promoted to partner in the Mayfair firm of Bugle & Yarrington while he is still wondering how and why he became a lawyer in the first place. This worry is, however, soon forgotten when the more vexing issue of attractive women confronts him.
James' normally less than logical and clear-headed thinking is further muddled as he tries to steer his personal life into bed and his professional life away from disaster. James James writes this comic legal satire with lightness and humour, and along with the laughter may be glimpsed the emergent struggle of a humane young man.
James James, is a lawyer by profession. Don't hold it against him. Encouraged by both colleagues and adversaries who saw frequent humour in his court appearances and glimmers of literary genius in his letter writing and drafting, James began to formulate ideas. Before long, he couldn't keep Bugle and Yarrington in his head any longer, so he wrote this memoir down. If, as a result of his writing, his legal career suffers, James is more than happy to write another book. James has lived and worked in London all his adult life.
Here are some 'reviews' of Bugle & Yarrington written by various eminent literati of the legal world. Some (perhaps not wishing to put their name to this slightly saucy spoof) may have chosen to remain anonymous.
A startlingly accurate portrayal of the modern Legal world in London, and very funny to boot The Legal review of Fiction
A disgraceful and thouroughly unrealistic account of the legal profession and especially of barristers. Made me laugh though Reginald Raymond QC, Barrister, 7 Queen's Bench Row
Satire on our profession at its best. I'm jolly glad James James didn't write about my firm, but I do wish we had more secretaries like Emily Ivor Fink, Senior Partner, Priest and Parsons