CPAG: Welfare Benefits and Tax Credits Handbook 2016/2017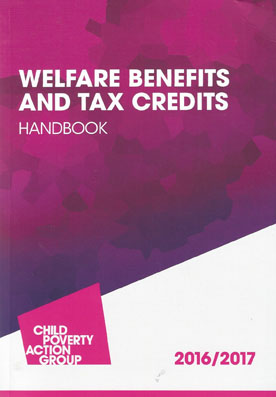 ISBN13: 9781910715079
Published: April 2016
Publisher: Child Poverty Action Group
Country of Publication: UK
Format: Paperback
Price: Out of print

Known as 'the advisers' bible' our comprehensive guide to all benefits and tax credits is an essential resource for all professional advisers serious about giving the best and most accurate advice to their clients.
With detailed information on all the recent changes to the welfare benefits system, including the latest on the roll-out of universal credit and the sanctions regime, the Welfare Benefits and Tax Credits Handbook also offers tactical information on common problem areas and advice on how to challenge decisions.
What does it cover?
This edition includes new and updated information on:
who can claim benefits and tax credits
the introduction and implementation of universal credit
disability and incapacity benefits, and the work capability assessment for employment and support allowance
dealing with benefit sanctions
challenging decisions, backdating, overpayments, income and capital, and national insurance provisions
the new state pension
Fully indexed for ease of use and cross-referenced to law, regulations, official guidance and court, Upper Tribunal and commissioners' decisions, the handbook is available in print and online, with bi-monthly updates published in our Welfare Rights Bulletin and the online version updated throughout the year.
Who is it for?
The Welfare Benefits and Tax Credits Handbook is an essential resource for welfare rights advisers, lawyers, local authority staff, social workers, union officials and claimants.