CPAG: Benefits for Migrants Handbook 8th ed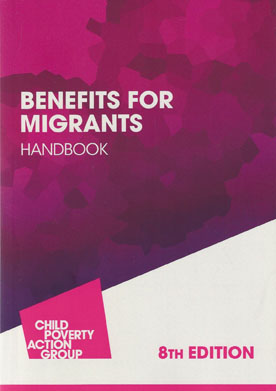 ISBN13: 9781910715093
Published: November 2016
Publisher: Child Poverty Action Group
Country of Publication: UK
Format: Paperback
Price: Out of print

The Benefits for Migrants Handbook is the complete and definitive guide to social security entitlement for people who have come to or who are leaving the UK.
Amid an increasingly difficult environment for migrants in the UK, and with the debate on European Union membership heating up, there has never been a more important time for migrants to know their social security rights or for advisers to be able to establish and communicate them effectively.
With new and updated information on all the significant legislative and caselaw developments affecting people from abroad, and lots of practical examples and tips that advisers can use, the Benefits for Migrants Handbook remains the essential guide for anyone seeking to navigate the complex rules surrounding immigration and benefits.
The handbook explains, in an accessible way:
the latest information on the new system of support for asylum seekers
who can satisfy the right to reside requirement
how immigration status affects entitlement to benefits, tax credits and council tax reduction
difficulties that migrants may encounter with their claims and getting paid, and how to deal with problems such as delays and providing evidence
European law and how it effects social security entitlement
financial and other support available for asylum seekers
The handbook is fully indexed and cross-referenced to UK and European legislation and caselaw.